Among the vibrant aircraft that grace the skies of Albert Whitted Airport, there's one that effortlessly captures attention with its striking red, white, and blue paint job. After decades of work pursuing his dream to fly aerobatics, Captain Mike Cappiello now sits behind the controls of his Aviat Pitts S-2B aerobatic biplane, N203MC.
From an early age, Mike Cappiello was captivated by the magic of aviation. "In the mid-80s, when I was 5 years old, I saw a movie. Top Gun. And who didn't want to be Maverick?"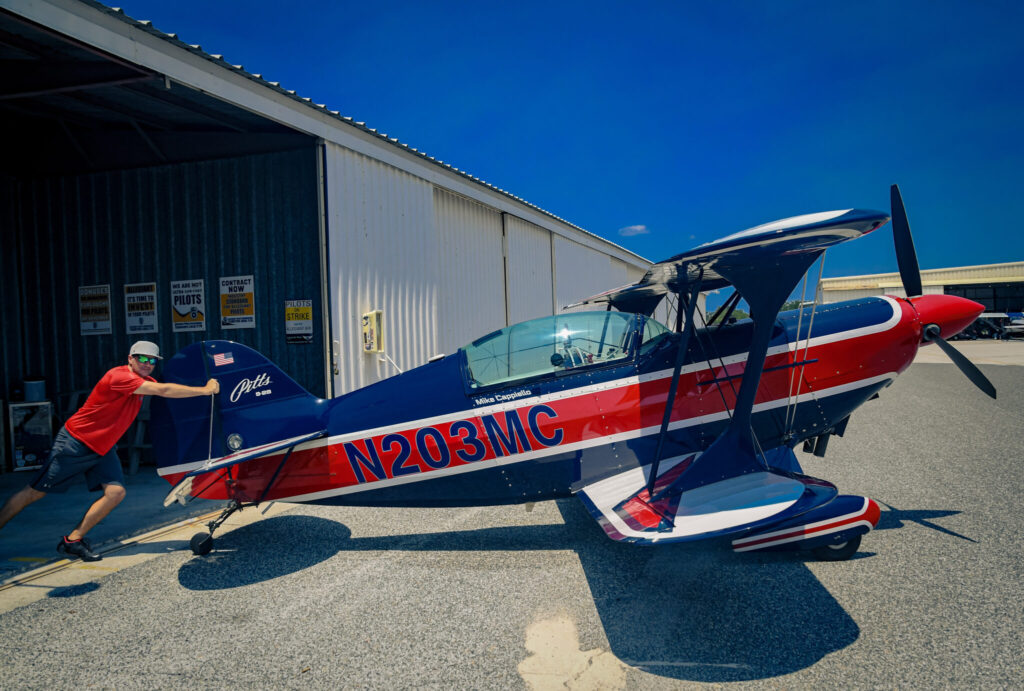 Mike obtained his private pilot license while still in high school at the age of 17—an accomplishment that marked the beginning of his career in aviation.
Mike was further inspired by airshows, where he witnessed the mesmerizing maneuvers of aerobatic pilots. Determined to be among these elite aviators, he attended Embry-Riddle Aeronautical University from 2000 to 2004. There, he was part of the Eagle Sport Aviation Club, immersing himself in the world of aerobatics, flying the club's S-2B. Mike then competed in his first competitions and earned many trophies including the 2003 International Aerobatic Club's Highest Scoring Pitts Pilot trophy presented by Aviat Aircraft at one of his first competitions. Upon graduation, Mike had the incredible opportunity to work for renowned aerobatic pilot Michael Goulian. For four years, he ferried and maintained Goulian's aerobatic airplanes to showcase their breathtaking capabilities throughout the U.S. and Canada.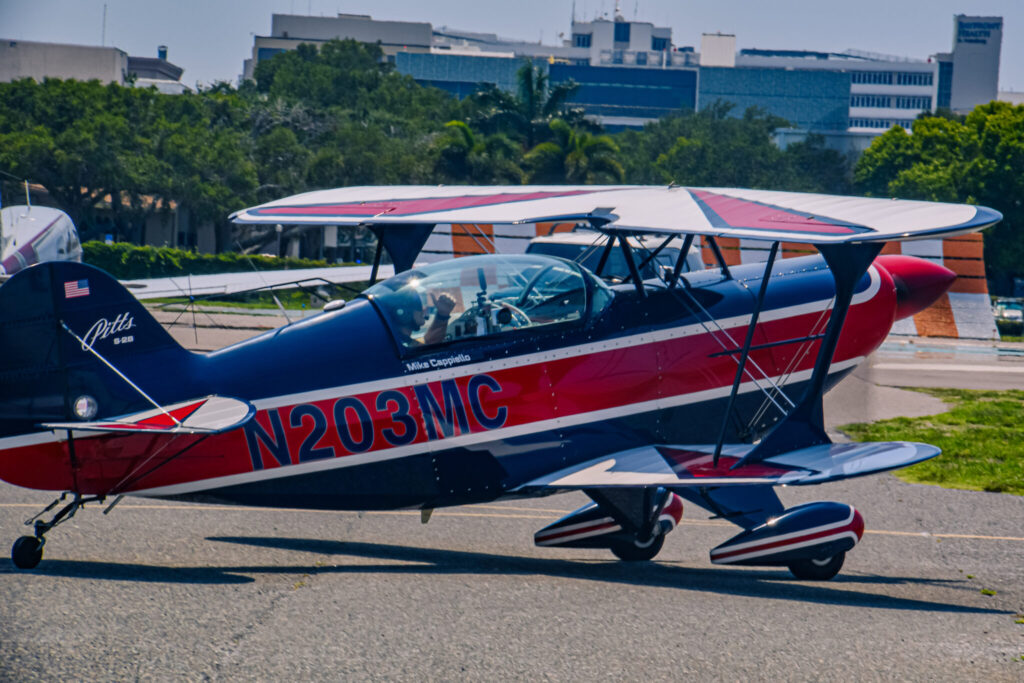 In 2014, Mike joined Allegiant Air, based at St. Pete-Clearwater International Airport (PIE). He flew the McDonnell Douglas MD-80 until the fleet was retired in 2017 and replaced with Airbus aircraft. Over time, Mike ascended to the role of Captain and Check Airman on the Airbus A320. Allegiant Air is set to acquire new Boeing 737 MAX aircraft between 2023 and 2025, and Mike will be among the pioneering pilots leading the transition to this state-of-the-art fleet.
After years of hard work and dedication, Mike was able to make his childhood dream of having his very own aerobatic airplane come true. "Albert Whitted Airport has a rich history and sits on the waterfront just steps from downtown St. Petersburg. The aviation community here is so special. There are not many places like this. It's great to be able to fly here and do what I've always wanted to do most: fly aerobatics!"
Mike added, "The airport is a great spot for student pilots to fly into on their training flights. It's also a popular destination for anyone looking for a weekend getaway with downtown St. Petersburg and so many beaches close by, not to mention the Hangar restaurant has great food!"
If you look closely, you might be lucky enough to spot Mike practicing loops, rolls, and other aerobatic maneuvers over the glistening waters off the coast of St. Pete Beach.
Captain Mike Cappiello's journey from an awe-struck child seeing Top Gun to a skilled aviator stands as a testament to the profound impact of passion and what can happen if you follow your dreams. Mike's dedication and love for aviation inspires fellow pilots and serves as a reminder of the vital role airports like Albert Whitted play in shaping the dreams of future aviators.