There have been many take-offs and landings over the years at Albert Whitted Airport. Yet over the last 20 years, one man has kept his feet firmly on the ground.
Meet Rich Lesniak, who has been the Airport Manager at Albert Whitted Airport since 2003.
Today, we're celebrating his commitment at the airport over the years.
Sky high career
Rich was always interested in aviation. He grew up in the Detroit area and as a boy, he looked forward to trips to the city's metropolitan airport.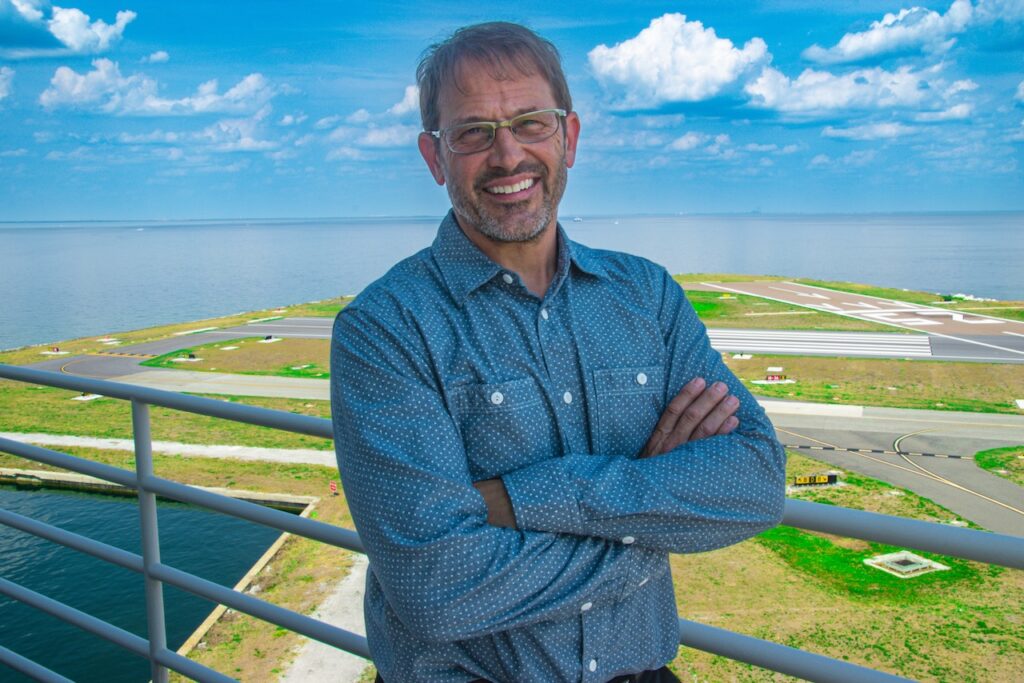 Rich has lived in the St. Petersburg area since the 1980s. He started his first job in aviation with Bay Air at Albert Whitted Airport after college in 1990, working as a flight line technician. There, he fueled and towed planes, prepping them for charter flights.
"Albert Whitted was kind of my launching pad into aviation," he told the Tampa Bay Times. "At the time, I thought maybe I wanted to be a pilot – what better way than to get experience? I wanted to get some practical experience."
While working, Rich took his first flight lessons and realized that he truly wanted to pursue an aviation career. Rich then attended Embry-Riddle Aeronautical University where he received his Bachelor's Degree in Aviation Business Administration.
Rich then started his full-time aviation career at St. Pete-Clearwater International Airport (PIE), working for the Pinellas County Airport Authority, where he spent almost nine years in various positions, including Operations Manager.
Blue sky thinking
No two days are the same for Rich at Albert Whitted Airport. He's responsible for overseeing the day-to-day operations of Albert Whitted Airport, including safety standards for the airfield, negotiating and maintaining leases, ensuring tenants comply with rules and regulations, overseeing maintenance issues, and ensuring that the airport runs smoothly and efficiently. And what better place to take a coffee break than the Hangar, watching planes come and go?
In addition, Rich supports the creation of exciting activities to expose young people to aviation and the potential careers available to them. He welcomes student visits, STEM activities, and incorporates artistic elements into the airport.
"Flying is great," he told Tampa Bay Times. "But the real excitement for me is the operation of an airport. It's like a city within itself. It's unique. It's dynamic. I don't think there's anything like it. It's always in a state of flux."
When he's not managing the airport, Rich likes to relax at home in Seminole and enjoy time with his wife Christina, and his two sons, Collin (17) and Blake (11).
Here's to the future
With 20 years managing Albert Whitted Airport under his belt, Rich has a lot to be proud of.
He works with passionate, dedicated people who have a deep passion for flying and the aviation industry. Over the years, Rich has seen the airport shine as an important place for medical, education, business, tourism, and history. He's seen experienced flight instructors help the next generation of deserving young people soar with the aviation scholarship program. He's felt the roar of the annual St. Pete Grand Prix, as Albert Whitted provided the principal infrastructure for the race.
He's seen the benefit that Albert Whitted Airport brings to the community, the inspiration for young people, and job creation.
But above all, over the last 20 years managing the airport, he has come to know the hard-working people that make up the airport. Rich knows, along with all of the many people who work and play at Albert Whitted Airport, that this downtown St. Pete gem plays a big part in his life.