Nathan Van Coops, accompanied by his loyal pup Atticus, is a well-known and friendly face around the field at Albert Whitted Airport. You can find him flying around in his 1957 Cessna 172 or tinkering with various aircraft parts in his hangar. Influenced by his pilot grandfather and artist mother, Nathan is a passionate aviator and imaginative writer.
Not only is Nathan a certified flight instructor, airframe and powerplant mechanic, and a Designated Mechanic Examiner (DME) for the FAA, but he's also a gifted author, weaving tales of mystery, time travel, science fiction, and adventure.
Nathan's fascination with aviation can be traced back to his grandfather, who told him riveting stories from his time in World War II flying the P38 Lightning. The twin-tailed aircraft, known as the "Fork-tailed Devil", could climb to 3,000 feet in 60 seconds and could reach speeds of 400 miles per hour, about 100 miles per hour faster than any other fighter aircraft at the time.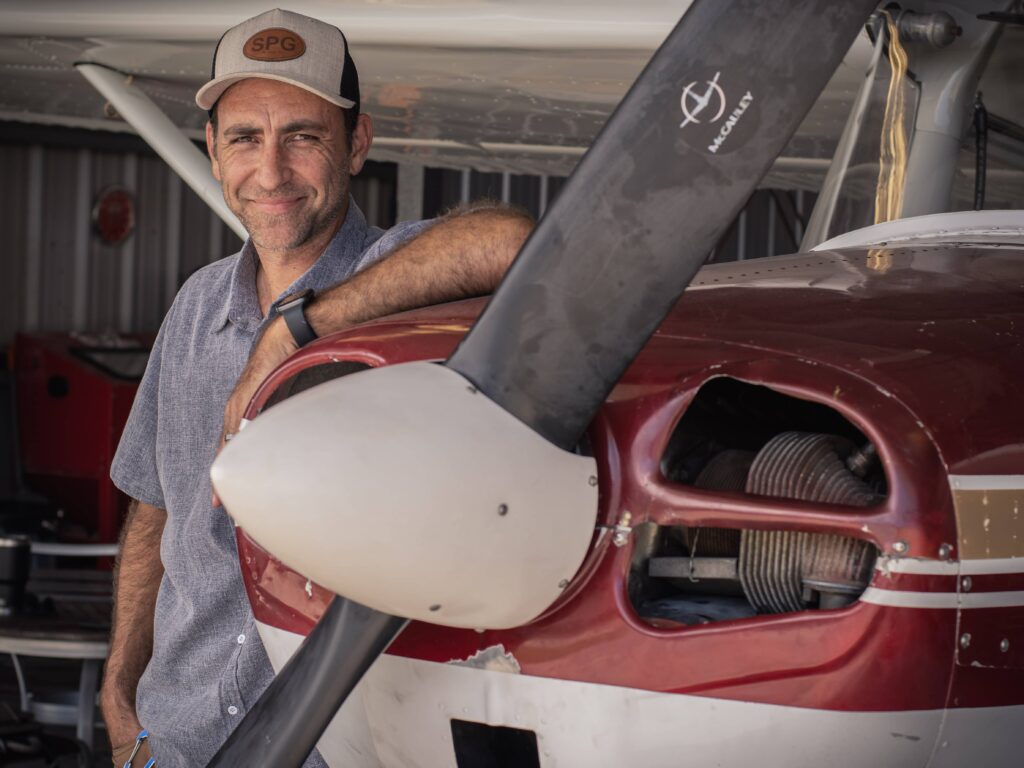 Like countless young boys around the world who developed a fascination for aviation, Nathan too, forged cherished memories with his grandfather at airshows, bonding over the showcase of various aircraft and their stunning aerial performances.
"He always told me when I was a kid, you can do anything you set your mind to. You want to be a pilot? You can be a pilot. You want to be a pro baseball player, you can be a pro baseball player," Nathan reminisced.
Instilled with an innate belief in his abilities to accomplish anything he set out to, Nathan began flight lessons in a Cessna in a small grass airport in Hanover, Pennsylvania. He soloed on his 16th birthday and by 18, had his private pilot license in hand.
Nathan started his aviation career as a traffic patrol pilot in Baltimore. It was during one of these patrols, cruising at 1,400 feet, that he spotted a balloon. This seemingly mundane sight sparked a profound thought in his creative mind. What if the sky was more like the ocean? What if we lived in the sky? What if there were other things up here? This fueled his future literary endeavors, including his book Faster Than Falling: The Skylighter Adventures in which he explores a fantastical world of colonies in the sky and heroes piloting airships.
After working as a flight instructor, Nathan became fascinated with the idea of becoming a bush pilot "pilots who fly in rugged terrain and remote regions without runways or access to maintenance facilities" Nathan knew he needed to be self-reliant when flying and be able to fix his own aircraft. After going to school to become a mechanic, he realized he liked the lifestyle of being a mechanic. During his 15-minute breaks, he would open his Word documents and write a few pages for books, penning down pieces of the stories that were constantly running in his mind.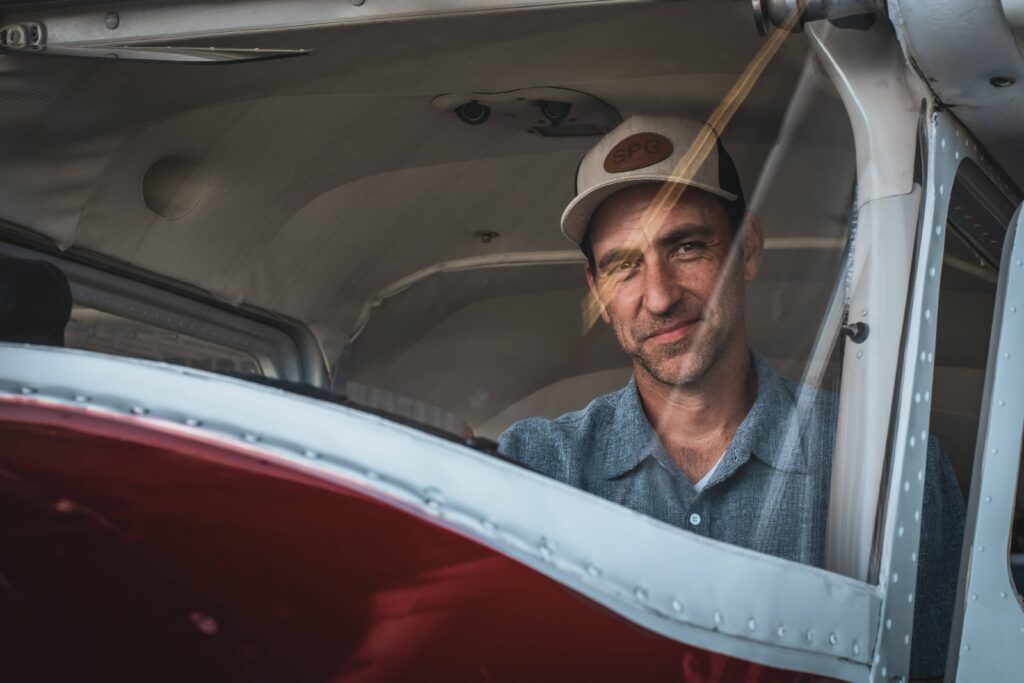 Initially moving to Venice, Florida, in 2003, he decided to make St. Petersburg and Albert Whitted Airport his home in 2005. "Once I landed here, I was hooked. I knew this was the spot I wanted to be out of any airport in the Bay Area." He worked as a mechanic at Bay Air Flying Services, which preceded St. Pete Air, and eventually became the Director of Maintenance. Today, Nathan is a Designated Mechanic Examiner for the Federal Aviation Administration, overseeing testing and issuing certificates to individuals earning their Airframe and Powerplant (A&P) certifications.
Nathan's most recent book, Tropic Angel, is set here at Albert Whitted Airport. While characters are fictionalized, the narrative captures the very essence of the iconic airport, making readers feel like they're right on the field. "Readers who have flown in here before immediately recognize the airport in the book and they appreciate having been here as pilots themselves because it's such an iconic airport that people love to fly in and out of.
Tropic Angel follows Luke Angel, a former Blackhawk pilot enjoying his laid-back life running a seaplane business in coastal Florida. When a friend's plane goes missing from the airport, he's the only one with the connections to solve the puzzle.
"It's going to be a continuing series with the home base being Albert Whitted Airport. I think it's a lot of fun to set a story here because there's so much history and so many characters in real life that inspire the imagination."
Drawing from the dual influences of aviation and art, Nathan's contributions to both flying and fiction prove that the sky is not the limit.